Order – The Camphor Tree Stories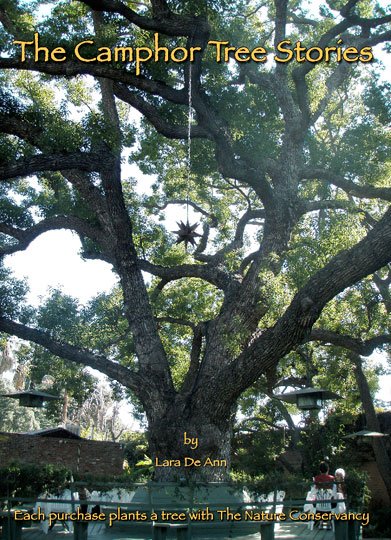 There was once a very old and large Camphor Tree. Many people would sit under this tree, have lunch and tell their life stories. Little did they know that their beloved old Camphor Tree, that provided much needed shade from the sweltering heat of the summer, held these stories deep within its heartwood. It heard and remembered every voice and every story that came from those that partook of its shade. No one knew this about the old Camphor Tree. No one knew that this tree was so full of vibrant life. It was teeming with people's gossip, with the stories of their lives and others, with cat's meows that lazed under the tree. It, too, could understand and remember stories from the birds and cats that voiced their opinions and shared commentary with each other about the humans sitting around the tree. This was a story tree.The Camphor Tree knew that one day it would have to begin to share what it had heard all of those many years. The Camphor Tree held this knowing deep in its heartwood and patiently awaited the time for this to occur.
One day a writer visited the Camphor Tree's town. While she was walking about, she came upon the beautiful and awesome Camphor Tree. She stopped everything that she was doing, ordered an ice tea from the café in front, and sat close, under the tree. She instantly knew that she had to write under it. Little did she know then that The Camphor Tree, like herself, was also a story teller.
When the writer began to write, something amazing happened. She heard a story that she had to record coming from The Camphor Tree. Since this writer was already accustomed to interspecies communication, she was thrilled and delighted to make the connection. The writer, a loyal tree lover, knew deep within her heart that their meeting was pre-ordained. She had a faint idea in the back of her mind all of these many years that she would record wisdom from a tree. She had not known if that was a real idea or if it was just fantasy. But, she was quickly realizing that the so-called "fantasy" world was becoming more and more real to herself and others who would occasionally share their miracle stories.
The Camphor Tree sent a warm jolt of "Thank You" energy into the writer's aura. The connection had been made and now the tree could impart its wisdom through its stories. They had been waiting for each other all of these years. Finally, the way in which it was to communicate with the world was uncovered.
This is a book of those recorded stories from The Camphor Tree.
The Camphor Tree Stories – $11.00
Testimonials
"This little book is for anyone who has ever sat under a tree and experienced the sense of expansion and selflessness that links the mind with the Universal Mind."
Marnia Robinson
Author Cupid's Poisoned Arrow
"The Camphor Tree Stories serve to remind us that indeed, perspective is everything. In her unique way, Lara De Ann challenges us to cock our ear to the side and experience life; yes, listen, from a new viewpoint. The fascinating journey of "what if…" lends us the ability to question, imagine, create, and even revel in what might be possible. Enjoy the journey!"
Valerie A. Polacek, MA
Reading Specialist
"I have really enjoyed reading The Camphor Tree Stories. They are poignant for adults as well as teens and school-aged children. They inspire us to look at what we do and what we can do better."
Janine McCowan, RN
Please Note: If you would like to order more than one item, you will have the opportunity to add more after you hit the "Add to Cart" button.
Shipping and Tax included with all purchases within U.S.A.